Happy. Healthy. Beautiful.
Every Smile: Your Local Chandler Dentists
Building a community of happy, healthy, beautiful smiles.
$25 Gift Card
Welcome New Patients! Receive a free $25 gift card at your first visit to Every Smile.

Invisalign®
Say goodbye to metal braces. Create the smile you always wanted with Invisalign®.
Orthodontics
Have an underbite, crowded, or gapped teeth? We can help give you a happy & healthy smile.
Dental Implants
Boost your confidence by improving the health and appearance of your smile.
Your family Chandler dentist and orthodontist
Happy. Healthy. Beautiful.
Welcome to Every Smile in Chandler, Arizona! We are a family-friendly dental that strives to help every smile be happy, healthy, and beautiful. We believe that a smile can make the world a better place, and we are committed to helping you keep your smile in the best possible health.
Our experienced dentists are pleased to offer a broad range of dental services including orthodontics (braces and Invisalign®), dental implants, root canal treatment, sedation dentistry, and more. We focus on providing your family with the highest possible level of dental care, and we enjoy caring for patients of all ages. Plus, we even have a fun Kids' Cove in our office for the enjoyment of our young patients!
Our caring dentists are proud to provide quality, gentle dentistry in Chandler, AZ as well as our neighbors in Mesa, Tempe, Phoenix, and Gilbert, Arizona. We look forward to caring for your family!
Why you should visit Every Smile
"We want to help our patients have such a happy, good dental experience. We want our patients to be healthy."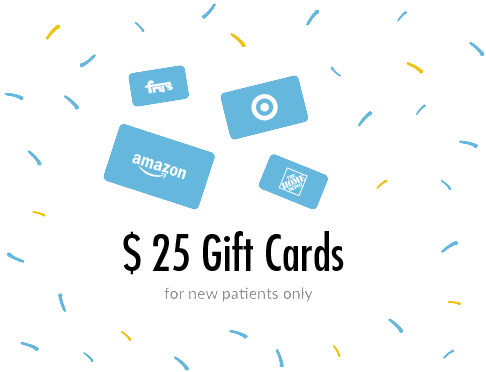 Receive a free $25 Gift Card during your first visit*
*First visit defined as comprehensive exam, x-rays, basic or periodontal cleaning. Two gift cards per household. Not valid with any other offer. Please print and present coupon at time of use.
Every Smile Chandler Reviews
See what our patients are saying about us.
"Went there today for my first visit and it was Fantastic! The staff was very friendly. Love their mission of Happy, Healthy, Beautiful. I will be referring many people here!"
"Took me in right away with hardly any notice!!! The staff was so awesome and friendly!!! The dentist was so nice and made me feel so comfortable!!"
"Everyone is so friendly and helpful from the moment you walk in. The office is very clean and bright, just like your smile after a visit with Dr. Lee."