The Chandler Dental Team Mission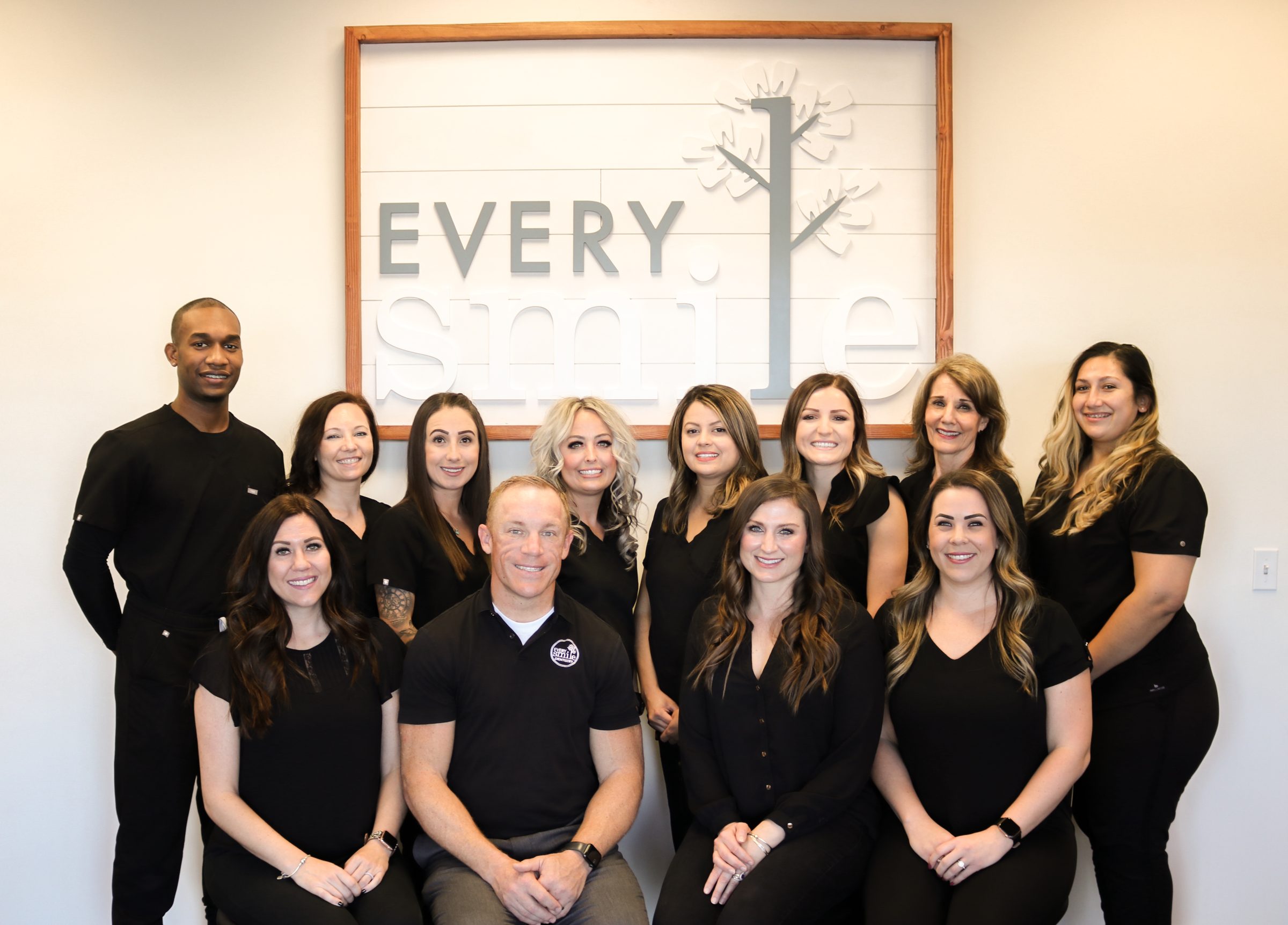 At Every Smile, we truly believe in the power of a smile. We understand that a smile can change your life, and we want you to be proud of your smile.
We believe a happy smile starts with a team that creates an awesome patient experience. At Every Smile we strive to create happiness for ourselves and our community through meaningful service, communication, compassion, and integrity.
We improve the health of a smile by giving the highest quality dental care through disease prevention, education, skilled practitioners, and modern technologies. At Every Smile, we promote health by providing a safe and clean environment.
We believe in the power of a smile. We want everyone to be proud of their smile because we believe a smile can change the world. Our dentists in Chandler, Arizona, offer a wide range of services to help people create their most beautiful smile.
Why you should visit Every Smile
"We want to help our patients have such a happy, good dental experience. We want our patients to be healthy."
"What makes me happy? The connections I make while helping improve people's smiles, my awesome family, and popcorn."
Dr. Scott Lee graduated cum laude with his Doctor of Dental Surgery degree from The Ohio State University in 2008. Before attending dental school, he graduated cum laude from Weber State University, where he majored in microbiology and minored in chemistry. Dr. Lee is an active member of several professional organizations, including the American Dental Association and Arizona Dental Association. He is also a former member of the United State Marine Corps and 2003 recipient of a Purple Heart during combat in Baghdad, Iraq.
Dr. Lee is an Arizona native; he grew up in Mesa and went to Westwood High School. He is proud of his service in the USMC and his Purple Heart. Dr. Lee and his beautiful wife, Melanie, have three wonderful kids, Hannah, Charlie, and Hazel. In his free time, he enjoys art, reading, hiking, mountain biking, serving in his church, and spending time with his family.
"A smile can bring warmth to a room or make your loved one's heart melt day after day."
Dr. Hahn is a third generation native to Arizona. She graduated from Corona del Sol High School, completed a Bachelor of Science degree in Biology, Magna Cum Laude from Arizona State University, and earned her Doctor of Dental Surgery from University of Colorado School of Dental Medicine. When Dr. Hahn is not treating patients, she enjoys spending time with her husband Nathan, who is a Gilbert Firefighter-Paramedic and their sweet one-year old daughter. Together, they enjoy snowboarding, days at the lake, cooking, traveling, and spending time with their friends and family.
Dr. Hahn truly believes that a smile is the prettiest thing you'll ever wear. A smile can bring warmth to a room or make your loved one's heart melt day after day.
Dr. Hahn sees how the power of a smile can boost confidence as well as your overall health. She strives for the patient experience to be comforting and pain free while providing an unwavering commitment to quality dentistry. She focuses on building not only professional but personal relationships with her patients, allowing sufficient time to provide optimal treatment plans for each individual patient. She has spent over 1,000 hours on continuing education focusing on advanced cosmetic training at the prestigious Kois Center in Seattle, as well as graduating from the Progressive Orthodontics program. She is a candidate for receiving a Fellowship with the Academy of General Dentistry, which only 7% of the dentist in the United States qualifies and achieves this honor.
"Nothing you wear is more important than your smile."
Dr. Arthur Kerle, or as he prefers to be called, Dr. K, is a Michigander. He decided he wanted to be a dentist at the age of 10, thanks to the influence of his 5th grade teacher, Mrs. Goodrich and his dentist, Dr. McDowell. Dr. Kerle grew up near Ann Arbor and received his BA from Hope College and then went to the University of Michigan for a Master's of Science focusing on histology, embryology and organogenesis. He graduated from the Michigan School of Dentistry in 1984.
He practiced in Northern Michigan for 23 years and then took a brief departure from dentistry and taught anatomy, physiology, histology, human pathology, comparative anatomy and forensics at the university level.
A mission trip to Bolivia helped him realize that his heart really was in dentistry. He has been blessed to be able to continue his passion of helping patients. He is a strong advocate of patient choice — and enjoys working with his staff to give the patient the best treatment suited to their needs.
Dr. Kerle followed his son and his family to Gilbert and is fortunate to be able to be Grandpapa and babysitter for three grandchildren, three dogs and 35 chickens. He's loving Arizona, the people, the food and the wonderful mornings!
Happy
Cooking, baking, gardening, and my dogs make me happy.
Healthy
Trying to live a balanced life and keeping everything in moderation.
Beautiful
Being yourself, imperfections and all.
Our Chandler Office Staff
Our entire team at Every Smile is devoted to helping you achieve a smile that is happy, healthy, and beautiful.
"Being a mom is the best thing in the world! I love spending time with my husband Steven, and our children Jada, Brylee, Boden. Oh and chocolate, chocolate makes me happy!"
"I believe that patient comfort and atmosphere are an important part of patient dental visits. I try to make our patients happy and comfortable while visiting Every Smile."
"Happiness is doing something active outside, spending time with my friends, or just snuggling with my dog, Piper."
"I would like to welcome you to our dental practice where we are committed to excellent patient care. To be of service to you is my goal. I wish for your experience with us to be exceptional from the time you arrive to the time you leave."
"Happiness is being a taste tester for my husbands delicious cooking, spending time with our two tiny humans, soaking up the Arizona sunshine, and sipping on iced caramel macchiatos."
"I love being a dog mama to boys Tater and Mylo.  I spend most nights after work in the garage learning about and fixing cars with my boyfriend.  I also have a huge sweet tooth for ice cream."